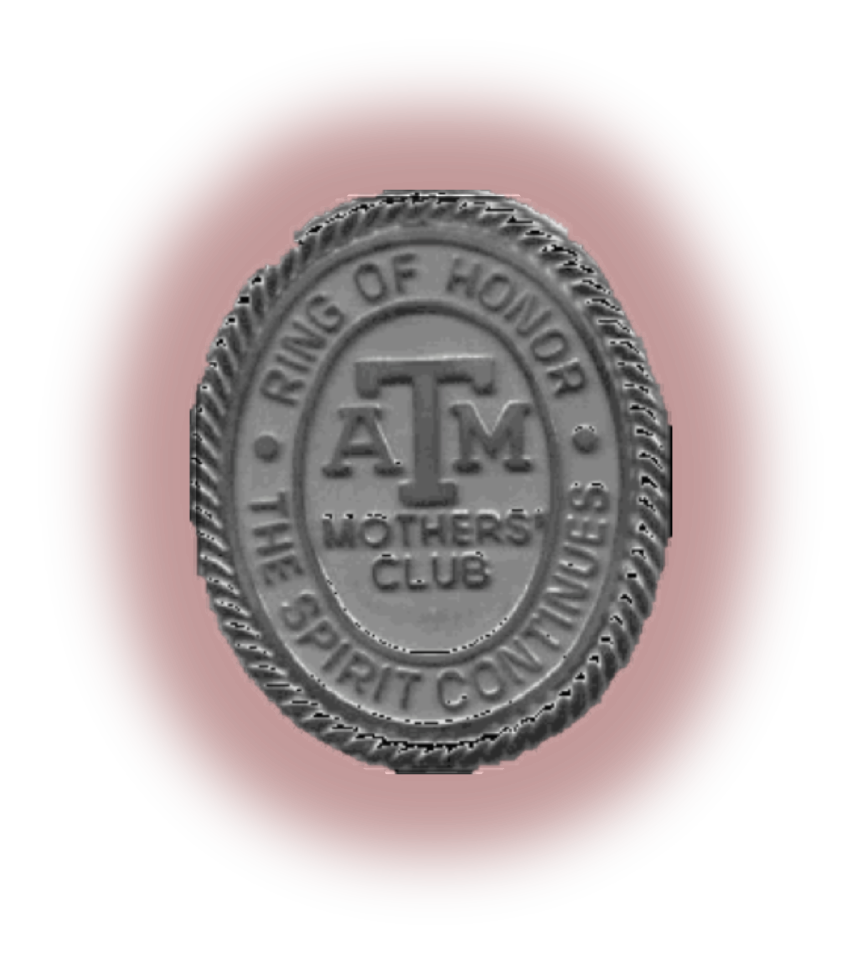 Ring of Honor is a group of moms whose Aggie students have graduated from Texas A&M University.
Do you miss the camaraderie that went with being an Aggie Mom? If you answered, "YES," you do not need to give up what you had. We have something special for you!
The Clear Lake Aggie Moms' (CLAM) Club has established an honorary group called the Ring of Honor Moms. It is for those of us that no longer have a student attending A&M but wish to remain a member of the Club, keep up with Aggie activities, and continue to visit with the friends we made through their years in the CLAM Club.
You will love it! It is a special group with no officers, no jobs to do, and no extra dues… just fun! Ring of Honor Moms meet quarterly, go out to dinner, eat, drink, laugh, visit, shop, travel, and have lots of fun! We may not all know everyone, but we still have something in common….we put students through Texas A&M, we are proud of them, and we are still Aggie supporters willing to share our WISDOM!
To be a Ring of Honor Mom, your Aggie must have graduated, you must be a current paid Ring of Honor member of CLAM Club; and, at some time, we hope you will agree to serve on the Scholarship Committee, when requested by the President of CLAM.
So why not come, get a Ring of Honor pin to "dunk" and join us? The fun does continue, so don't miss out!
We depend upon Aggie Moms to stay connected with us once their students have graduated. All you have to do is indicate Ring of Honor on your Aggie Mom membership form.
Ring of Honor is open to all Aggie Moms who meet the requirements. Come and join us for continued fun as a Ring of Honor Mom!
---
The Spirit Continues Through the
Ring of Honor
Organization Purpose:
Retain membership of a mom after her student has left Texas A&M University.
Honor the special moms who have contributed extra effort with the CLAM Club.
Organization Membership:
Invite moms of former students to be members in good standing (i.e. pay applicable ROH dues) of the CLAM Club.

Encourage payment of (optional) dues specifically for the Ring of Honor group to support membership – possible newsletter, invitations to special functions, etc.
Organization Duties:
Assemble as an auxiliary to the the CLAM Club.


Meet three to four times a year for a social session and dinner together.


Keep up with former students and to maintain friendships.
Organization Logo:
The Ring of Honor logo is designed to represent the continuing commitment of the mom to Texas A&M University and to CLAM Club. It will be displayed on name tags and correspondence.

A pin carrying the design has been manufactured exclusively for the CLAM Club that will be used as a money-making project for the El Paso group. These pins will be supplied only through the El Paso Ring of Honor Mothers' Club, but ordered individually by CLAM Ring of Honor Moms….meaning that the CLAM Club must certify that the person ordering the pin is a member of the CLAM Club not just an individual with a graduate.
Organization Status:
Maintain the non-profit status enjoyed by the CLAM Club as a subordinate group of the CLAM Club.

Any and all profits received by this group will be returned to the University, as is provided through the Bylaws and Constitution of the CLAM Club.